#1 Appliance Junk Removal Services in Jupiter, Florida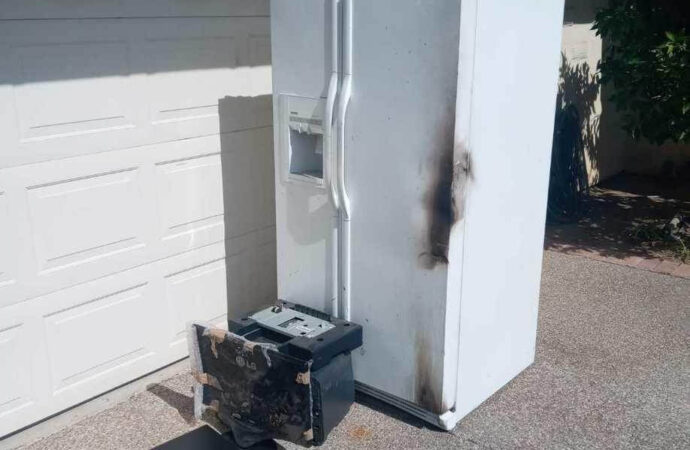 Are there old appliances in your house or office that you no longer need or want? Do you not know how to get rid of them without having to leave every piece in landfills or next to your garbage bins—where no one will pick them up, by the way? It may be difficult to get rid of them because of the heavy lifting involved, but also the type of items they are and all the components and parts. You should also be careful about where you place them for disposal since some chemicals and substances can come up in some of the items, like microwaves and similar appliances. If you want to stop struggling with this, make sure to contact Jupiter Waste and Junk Removal Pros for all your needs.
Our appliance junk removal team offers a safe, efficient, and environmentally-friendly service that will make you proud while you finally deal with all the old and damaged appliances you want to remove. 
This service removes the need for you to take out and collect any old appliances from your home or any other property. If the appliances are in good condition, we can place them in the correct center or donate them so everyone can get what they need without having to struggle. In the process, you get a certificate to reduce your taxes, thanks to how you're donating the items.
To arrange for us to manage the whole process, you can either call us or email us. Our appliance removal experts will come to your home or workplace and assess the scope of the work needed. We'll then give you an estimate based on what we see, and you can also use our contact form on this page if it happens to be more comfortable for you.
To provide you with a free estimate, we will call you no later than 15 minutes before arriving with our team. The estimate is based on the amount of junk that you have. There are no obligations, and you can always count on us regardless of the number of appliances.
If you decide to work with us, we won't make things difficult. All junk will be picked up by our junk removal trucks and hauled away. Our junk removal trucks don't charge any hidden fees, and we can finish the job quickly so you can get rid of all your appliances.
What appliances are we able to take away? These are just a few of the appliances we can haul. But our service doesn't stop there, and you can rest assured that besides heaters, air conditioners, microwaves, and more, we can support you through the process and take other types of appliances.
Just Remember This Before Hiring Us
Appliance removal simply refers to the act of having appliances taken out of your home and taken to transition centers for disposal or taken from any other property and space.
Appliance removal requires a suitable vehicle. It is possible to lift or move the appliances with several people depending on how much work it will take.
All of these and more are our specialties.
First, we will get rid of all junk appliances from your house, apartment, or workplace. This is only the beginning of our work.
We don't advocate the disposal of items in landfills in many cases. Depending on the condition of the item, we will either recycle it or give it away.
So when you work with our team at Jupiter Waste and Junk Removal Pros, you know you will have qualified people handling every appliance.
Here is a list of our services you can get at Jupiter Waste and Junk Removal Pros:
---
Jupiter Waste and Junk Removal Pros is the top company in Palm Beach County that offers the best residential and commercial junk removal services. Here's our additional services:
---